Holy Coconut is a comprehensive coconut oil guide.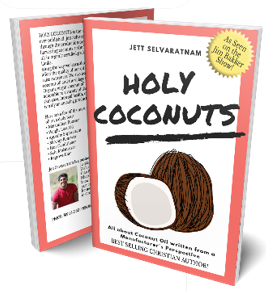 Author Jett Selvaratnam goes into detail about the production process of organic virgin coconut oil from harvesting coconuts to bottling the oil in organically certified packaging at his state of the art facility in Sri Lanka. Also included in this book are many recipes, many coconut oil uses, as well as crucial dietary information.
You'll find information about utilizing coconut oil for hair care, skin care, internal health, or even pet care.
You'll find that organic virgin coconut oil is truly an amazing product with lots of benefits.
Jett Selvaratnam is a business entrepreneur from Colombo, Sri Lanka who current lives in Orem, Utah. Jett has been highlighted as one of Utah's most successful young entrepreneurs. His experience is highlighted by his extensive knowledge of the organic food industry.

Customer Reviews (0)
No reviews.
Write a Review