Optivida Nano-Silver Gel is a healing gel that promotes natural healing; 24 PPM.
Tube Size: 4 FL OZ
For external, cosmetic use only.
Suggested Use: Apply generously to skin as needed to help promote natural healing.
Optivida Silver works more efficiently than colloidal and ionic silvers to accomplish numerous positive functions on your skin. By using catalytic instead of chemical action, Optivida Silver helps speed up natural processes that have positive effects throughout the body. Unlike colloidal and ionic silvers, which quit working after completing one function, Optivida Silver performs over and over for hours. By resonating at just the right frequency, Optivida Silver disrupts foreign elements without disturbing the body's natural environment.
Has no smell, no alcohol, and needs no refrigeration.

It is not greasy and will absorb in a few minutes.

Can be mixed with other lotions to provide an extra measure of healing

Can be applied directly to minor skin irritations.

This product is not intended to diagnose, treat, cure or prevent any disease. These statements have not been evaluated by the FDA.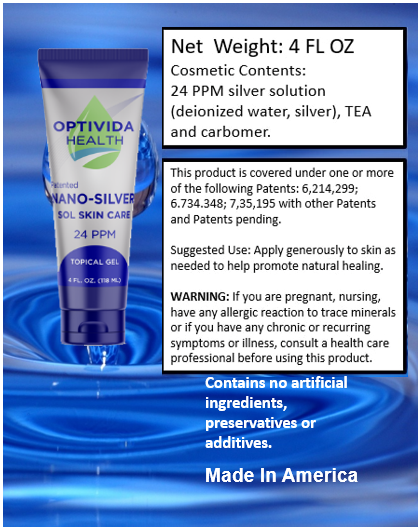 Customer Reviews (5)
Every household should have at least one tube of this on hand.
Great product Activz Silver Gel
This is a wonderful product for skin rashes from the heat and an all around great product for any skin irritation.
the entire family uses these products now. Great for survival kits, medication needs. Wish the products came in travel sizes due to regulation on flights now. Great company to deal with and will for sure use again for reorders.
I use it for pimples and MRSA folliculitis.... works really well... and works even better with essential oils lavender and/or tea tree. For deeper lesions/boils I apply this silver gel with or without essential oils and cover with bandage/warm clothing (warmth will enable the silver to go deeper into tissues and kill the bacteria)
Best for Cuts and skin abrasions
Our Granddaughters use it everyday. They say Grand Mum I need the Silver cream...... It works every time.
Write a Review