The 5A Silver Package is an affordable way to buy a month's supply of silver products.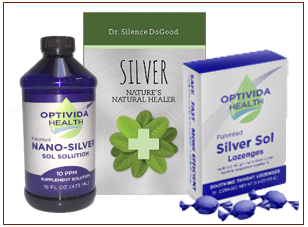 The 5A Package Contains:
Optivida Silver Solution 10 PPM - 16 ounce bottle
Box Optivida Silver Lozenges 60 PPM - 21 Lozenge Box
Book: "Silver - Nature's Natural Healer" Presented by The Silver Use Institute. A comprehensive and easy-to-use book on the topic of Silver. Citing more than thirty university and clinical studies, it offers a complete A-Z listing of protocols ranging from Asthma to Water Purification.
Select 2 tubes from the list. Mark your selections in the selection box at the top of this page.
Optivida Silver Gel - 4 ounce tube
Activz Silver Tooth Paste - 4 ounce tube
Activz Facial Cream Gel - 3.4 ounce tube
Activz Hand Lotion - 3.4 ounce tube
See individual products page for product information, suggested usage, and supplement facts.
This product is not intended to diagnose, treat, cure or prevent any disease.
Customer Reviews (0)
No reviews.
Write a Review